Last updated 17 January 2017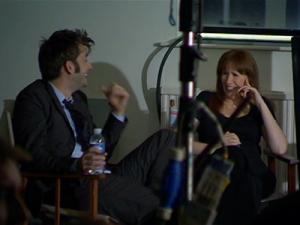 Unconfirmed

: Sunday 14th November 2010
12:45am CST
(06:45 GMT)
<
>
«
»
WTTW 11 Chicago
Featuring: Phil Collinson, Bernard Cribbins, Russell T Davies, Anthony Head, Sarah Lancashire, James Strong, Catherine Tate, David Tennant, Jacqueline King
This episode goes behind the scenes of Partners in Crime

Catherine Tate returns as the unstoppable Donna Noble. In her search for the Doctor, Donna finds herself face to face with the mighty Miss Foster and a larger-than-life threat against mankind. With the tension rising, the programme gets up close and personal with the Doctor's latest companion from her first days on set through to her battle against an army of sinister Adipose. Features interviews with Tate, David Tennant and Sarah Lancashire.
Synopsis Source: Doctor Who Guide
---
Broadcast notes:
TWiDW does not cover the period between Voyage of the Damned on 31st October and Oods and Ends on 19th December. There appaears to be a month gap, which might well have been during a pledge/specials period.
Broadcast Source: TWiDW