Last updated 13 January 2017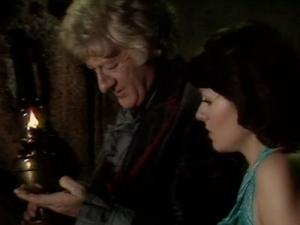 Broadcast: Sunday 30th July 1989
11:00pm-12:33am CDT
(04:00 GMT)
<
>
«
»
WTTW 11 Chicago
Featuring: Jon Pertwee, Elisabeth Sladen, Julian Fox, Joy Harrison, Duncan Lamont
The TARDIS suffers a power drain and is forced down on the planet Exxilon. Sarah is captured by the primitive inhabitants and the Doctor comes face to face with his oldest enemies.
Synopsis Source: Doctor Who Guide
---
Broadcast notes:
Intro: Tonight, a space plague attacks every living thing in the galaxy. The antidote can only be found on a planet that is home to a savagely hostile and degenerate race. And that will not be The Doctor's only problem as one might infer from the title of tonight's adventure: "Death to the Daleks."
Outro: One half of "The Monster of Peladon" surprisingly emerged on our air two weeks ago. Next week, we'll bring you the entire creature. Join us next Sunday at 10 for the complete "Monster of Peladon." [source: ChicagoEpguides]
Broadcast Source: BroaDWcast