Last updated 13 January 2017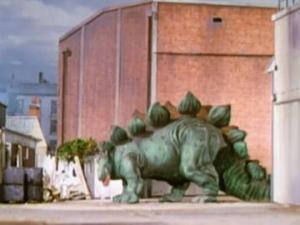 Broadcast: Sunday 23rd July 1989
11:00pm-12:55am CDT
(04:00 GMT)
<
>
«
»
WTTW 11 Chicago
Featuring: Jon Pertwee, Nicholas Courtney, Elisabeth Sladen, Richard Franklin, Martin Jarvis, John Levene, Peter Miles
The Doctor plans to capture a dinosaur so he can discover who is transporting them through time. But Mike Yates is in league with the enemy and is ordered to stop the Doctor.
Synopsis Source: Doctor Who Guide
---
Broadcast notes:
Episode one wasn't shown owing to it being in black and white.
Intro: Welcome. I knew you'd be watching tonight for the unraveling of last week's contretemps. It was not a devious intergalactic plot after all, merely an Earthly miscalculation in which a tape number and program number were not interfaced as planned. All that was lost is time as you're about to learn in this exposition of our future plans. Note well: "The Monster of Peladon" will be shown in its entirety on August the 6th. "The Time Monster" will be broadcast on August 13th and the "Invasion of the Dinosaurs" will commence immediately.
Outro: Next week, a space plague will threaten all creatures in the galaxy and the antidote is found only on a planet inhabited by a savagely hostile and degenerate race, and that won't be The Doctor's only problem. Be with us next Sunday night at 11 for "Death to the Daleks." [source: ChicagoEpguides]
Broadcast Source: BroaDWcast