Last updated 13 January 2017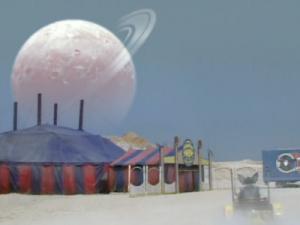 Broadcast: Sunday 26th March 1989
11:00pm-12:29am CST
(05:00 GMT)
<
>
«
»

<
>
«
»
WTTW 11 Chicago
Featuring: Sylvester McCoy, Sophie Aldred, Christopher Guard, Jessica Martin, T P McKenna, Peggy Mount, Gian Sammarco
Bellboy and Flowerchild escape the Psychic Circus but are pursued by the Chief Clown. The Doctor and Ace meet other visitors to Segonax, some of whom are not what they seem...
Synopsis Source: Doctor Who Guide
Intro: There is trouble on the circus on Segonax, and it will take more than a shout of "hey rube" to overcome it. The Doctor and Ace will soon take their star turns in "The Greatest Show in the Galaxy."
Outro: With tonight's adventure we bid a fond farewell to the Doctor Sylvester McCoy regeneration. But we expect him back anon. Be with us next Sunday night at 11 to cheer the return of Jon Pertwee in the "Day of the Daleks." [source: ChicagoEpguides]
Broadcast Source: BroaDWcast