Last updated 12 January 2017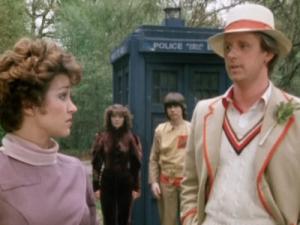 Broadcast: Sunday 12th June 1988
11:00pm-12:29am CDT
(04:00 GMT)
«
»
WTTW 11 Chicago
Featuring: Peter Davison, Janet Fielding, Sarah Sutton, Matthew Waterhouse, Michael Robbins
The TARDIS lands in 17th century England which is being stalked by a robotic death-like figure. The locals seem to be under a strange mesmeric spell.
Synopsis Source: Doctor Who Guide
Intro: The TARDIS lands in a peaceful forest grove. A fully rested Nyssa joins The Doctor, Adric and Tegan as they set out to explore their new surroundings. They have not the slightest inking of the horror that awaits them. It will soon be manifest in "The Visitation."
Outro: ... in the 1920s and a fancy dress ball are two of the ingredients in next week's unusual adventure. Be with us next Sunday night at 11 for "Black Orchid." [source: ChicagoEpguides]
Broadcast Source: BroaDWcast