Last updated 12 January 2017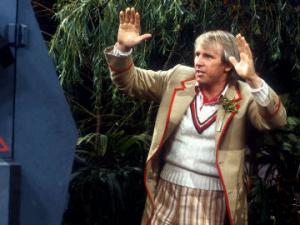 Broadcast: Sunday 5th June 1988
11:00pm-12:31am CDT
(04:00 GMT)
<
>
«
»
WTTW 11 Chicago
Featuring: Peter Davison, Janet Fielding, Sarah Sutton, Matthew Waterhouse, Nerys Hughes, Simon Rouse, Richard Todd
While Nyssa rests, Adric and the Doctor discover a military expedition on Deva Loka. Tegan falls asleep in the forest watched by the Kinda, but they cannot stop her dreams.
Synopsis Source: Doctor Who Guide
Intro: When on a strange, new planet, it's a good idea to stick together when venturing abroad as Tegan will soon find out. Travel with us now to Deva Loka and meet, among others, the "Kinda."
Outro: Next week, our time travelers land in 17th century England, a land ravaged by the plague, and more. Join us next Sunday evening at 11 for "The Visitation." [source: ChicagoEpguides]
Broadcast Source: BroaDWcast