Last updated 12 January 2017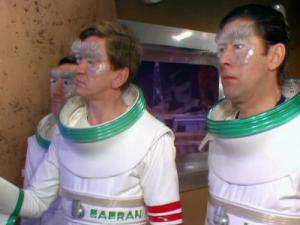 Broadcast: Sunday 29th November 1987
11:00pm-12:27am CST
(05:00 GMT)
<
>
«
»
(actually broadcast at 23:10:00)
WTTW 11 Chicago
Featuring: Tom Baker, Louise Jameson, John Leeson, Michael Sheard
An alien virus infects the human crew of a refuelling station on Titan, one of the moons of Saturn. The Doctor is also infected and becomes possessed by the will of the Nucleus.
Synopsis Source: Doctor Who Guide
---
Broadcast notes:
Delayed from 11pm to 11:10pm owing to pledge drive.
Outro: Next week, The Doctor lands of present day Earth to find a scientist running tests on a twelve million year old human skull that hold within far more than he could imagine. Be with us next Sunday night at 11 for "Image of the Fendahl." And mark your calendar now for two weeks from tonight when the regular Doctor Who presentation will be preceded at 10pm by the special called Who's Who. [source: ChicagoEpguides]
Broadcast Source: BroaDWcast