Last updated 12 January 2017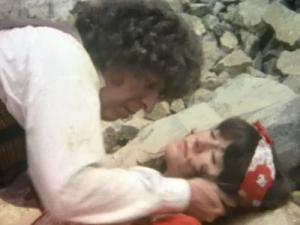 Broadcast: Sunday 11th October 1987
11:00pm-12:34am CDT
(04:00 GMT)
<
>
«
»
WTTW 11 Chicago
Featuring: Tom Baker, Elisabeth Sladen
The TARDIS returns to present day Earth, where Sarah is caught in a rock fall and becomes possessed by the fossilized stone hand of the alien Eldrad.
Synopsis Source: Doctor Who Guide
---
Broadcast notes:
Intro: Give the little lady a hand. Or, in tonight's case, give the hand a little lady. It will use her as a seeing-eye person to find its equivalent of a fast food establishment. Don't snicker. You too may soon be held in enthrall by "The Hand of Fear."
Outro: So it's goodbye to Sarah with fond regrets and hello to the Time Lords' home planet of Gallifrey where we shall meet, next Sunday night at 11, "The Deadly Assassin." [source: ChicagoEpguides]
Broadcast Source: BroaDWcast