Last updated 12 January 2017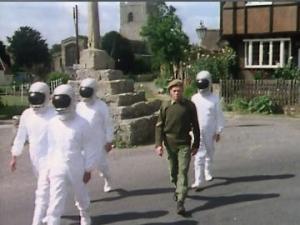 Broadcast: Sunday 6th September 1987
11:00pm-12:31am CDT
(04:00 GMT)
<
>
«
»
WTTW 11 Chicago
Featuring: Tom Baker, Elisabeth Sladen, Martin Friend, Milton Johns
The TARDIS apparently arrives back on Earth but all is not as it seems as the Doctor and Sarah are attacked by mysterious space suited figures and find that the 'dead' are walking.
Synopsis Source: Doctor Who Guide
Intro: When the TARDIS lands on Earth, Sarah recognizes Devesham, a village she knows well, and is delighted to see once more. But Devesham has changed and so have its inhabitants as The Doctor and Sarah will learn to their displeasure in the course of "The Android Invasion."
Outro: Next week, The Doctor is ordered to the planet Karn where a fellow with a mind of his own is cooking up trouble. Join us next Sunday night at 11 and meet "The Brain of Morbius." [source: ChicagoEpguides]
Broadcast Source: BroaDWcast