Last updated 12 January 2017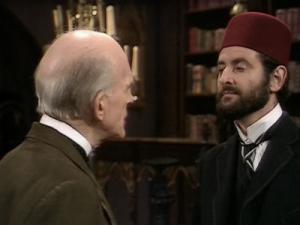 Broadcast: Sunday 30th August 1987
11:00pm-12:33am CDT
(04:00 GMT)
<
>
«
»
WTTW 11 Chicago
Featuring: Tom Baker, Elisabeth Sladen, Bernard Archard, Michael Sheard
The TARDIS lands in 1911. In the grounds of the Old Priory, Egyptian mummies are walking and the Doctor and Sarah find that an ancient and powerful evil is menacing mankind.
Synopsis Source: Doctor Who Guide
---
Broadcast notes:
Intro: When your car bounces about, the cause is probably a rough road. When the TARDIS experiences a rough passage, the cause may be far more exotic and dangerous as The Doctor and Sarah will soon realize in facing "The Pyramids of Mars."
Outro: What is one to do when old friends become hostile? Change mouthwash? Sarah and The Doctor will be forced to more drastic measures next Sunday night at 11 if they are to successfully blunt "The Android Invasion." [source: ChicagoEpguides]
Broadcast Source: BroaDWcast