Last updated 12 January 2017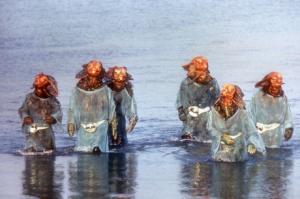 Broadcast: Sunday 22nd February 1987
11:00pm-11:59pm CST
(05:00 GMT)
<
>
«
»
WTTW 11 Chicago
Featuring: Jon Pertwee, Katy Manning, Roger Delgado, Clive Morton, Edwin Richfield, Donald Sumpter
The Doctor attempts to persuade Captain Hart of the danger that the Master represents. Eager to make contact with the Sea Devils, the Doctor journeys deep into the ocean.
Synopsis Source: Doctor Who Guide
---
Broadcast notes:
WTTW split the story into two episodes, with the break occuring during episode four when the Doctor points out to Hart that the submarine signal is heading towards the beach near the prison. [source: ChicagoEpguides]
Intro: In short order the Sea Devils will be summoned by The Master, setting in motion an incredible chain of events which will test The Doctor's ability, his talent, and his ingenuity. Stay tuned now for the conclusion of "The Sea Devils."
Outro: Next week, the Time Lords send The Doctor and Jo to the planet Solos to deliver a mysterious message to an unknown party. Be with us next Sunday evening at 11 for the astonishing meeting of Doctor Who and "The Mutants." [source: ChicagoEpguides]
Broadcast Source: BroaDWcast