Last updated 09 January 2017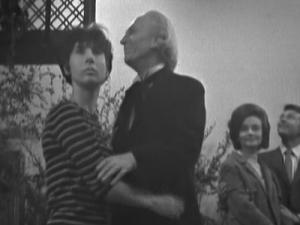 Broadcast: Sunday 20th July 1986
11:00pm-12:06am CDT
(04:00 GMT)
<
>
«
»

<
>
«
»
WTTW 11 Chicago
Featuring: William Hartnell, Carole Ann Ford, Jacqueline Hill, William Russell, Peter Fraser, Alan Judd, Bernard Kay
The TARDIS lands in a ruined and empty London in the 22nd Century. Robomen patrol the shattered streets. The Doctor is eager to discover the cause of the city's plight.
Synopsis Source: Doctor Who Guide
---
Broadcast notes:
WTTW split the story into two parts, with the break occuring during episode three as Dortmun is killed by the Daleks [source: ChicagoEpguides]
Intro: London, the year 2164. Vicious aliens are turning Earthlings into robomen, an early step in their evil plan to take over the planet. The strong-hearted among you will remain tuned now to witness "The Dalek Invasion of Earth."
Outro: Will the Supreme Dalek's order to destroy London be carried out? Be with us next Sunday evening at 11 for the astonishing conclusion of "The Dalek Invasion of Earth." But before this Earth week passes, you might want to reserve space on your schedule this Thursday night at 10:30 for a Time Lord special: "The Five Doctors." [source: ChicagoEpguides]
Broadcast Source: BroaDWcast