Last updated 09 January 2017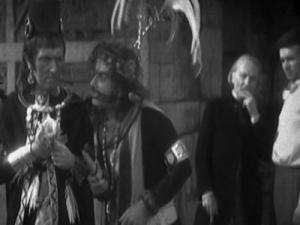 Broadcast: Sunday 22nd June 1986
11:00pm-12:33am CDT
(04:00 GMT)
<
>
«
»

<
>
«
»
WTTW 11 Chicago
Featuring: William Hartnell, Carole Ann Ford, Jacqueline Hill, William Russell, Ian Cullen, Keith Pyott, John Ringham
The TARDIS lands inside an Aztec temple in 15th Century Mexico and become cut off from the ship when they leave the temple to explore.
Synopsis Source: Doctor Who Guide
---
Broadcast notes:
Intro: Ixta is not a kind of Greek brandy, but a one-time high priest of the Aztecs. A bracelet in his tomb will soon precipitate a string of events which will test the inginuity of The Doctor, Barbara, and Ian as they meet "The Aztecs."
Outro: Next week, the TARDIS lands on the deck of a 28th century space ship from Earth to find it is under the control of an alien race. Be with us next Sunday night at 11 when we meet "The Sensorites." [source: ChicagoEpguides]
Broadcast Source: BroaDWcast