Last updated 09 January 2017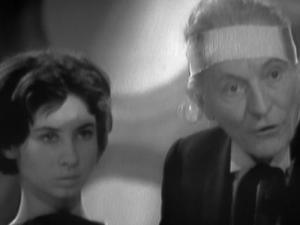 Broadcast: Sunday 1st June 1986
11:00pm-11:45pm CDT
(04:00 GMT)
<
>
«
»

<
>
«
»
WTTW 11 Chicago
Featuring: William Hartnell, Carole Ann Ford, Jacqueline Hill, William Russell
The TARDIS is suspended in space and the Doctor, Ian, Barbara and Susan are confused and frightened by a series of mysterious events.
Synopsis Source: Doctor Who Guide
Intro: Who or what is responsible for the problem with the guidance system of the TARDIS? The truth will be manifest before the night is out as we journey toward the "The Edge of Destruction."
Outro: On the planet Marinus the sand is glass and the sea is acid. Next stop for the TARDIS: an island in that acid ocean. Be with us next Sunday evening at 11 when The Doctor begins the search for "The Keys of Marinus." [source: ChicagoEpguides]
Broadcast Source: BroaDWcast