Last updated 12 January 2017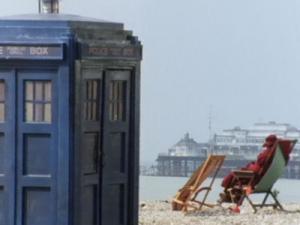 Broadcast: Sunday 26th January 1986
11:00pm-12:16am CST
(05:00 GMT)
<
>
«
»
WTTW 11 Chicago
Featuring: Tom Baker, John Leeson, Lalla Ward, Adrienne Corri, David Haig, Nigel Lambert, Laurence Payne
The Doctor and Romana visit the Leisure Hive on Argolis. The Argolins, survivors of a war, run the Hive as a tourist attraction but its future is jeopardised by a series of deaths.
Synopsis Source: Doctor Who Guide
---
Broadcast notes:
Intro: The Leisure Hive on planet Argolis is a place where twenty-third century travelers and businessmen can relax in style. Unfortunately, the Argolins have a greater worry than maintenance of the tourist trade, and equally unfortunate for The Doctor and Romana, their vacation is in jeopardy.
Outro: Next week, The Doctor encounters Meglos, the last survior of Zolfa-Thura, and a very prickly character. How much needling will The Doctor take? Be with us next Sunday evening at 11 and learn for yourself. [source: ChicagoEpguides]
Broadcast Source: BroaDWcast