Last updated 12 January 2017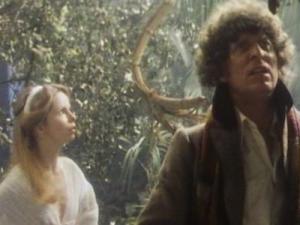 Broadcast: Sunday 5th January 1986
11:00pm-12:31am CST
(05:00 GMT)
<
>
«
»
WTTW 11 Chicago
Featuring: Tom Baker, David Brierley, Lalla Ward, Myra Frances, Eileen Way
The Doctor and Romana follow a distress signal to the jungle world of Chloris. The planet is ruled by the ruthless Lady Adrasta who takes the Doctor prisoner.
Synopsis Source: Doctor Who Guide
---
Broadcast notes:
Intro: Lady Adrasta lives and rules on the planet Chloris. If you pit yourself against her, she'll have you pitched into the pit, and, to be pithy, that's the pits. When The Doctor is picked as Adrasta's latest pit pet, he soon hears the pitty pat of "The Creature from the Pit."
Outro: Next week, meet the Mandrels. Not the vivacious, country-singing sisters. These Mandrels could not carry off a Willie Nelson tune, but they can carry off virtually anything else, and in most horrifying fashion. Be with us next Sunday evening at 11 and witness the "Nightmare of Eden." [source: ChicagoEpguides]
Broadcast Source: BroaDWcast