Last updated 12 January 2017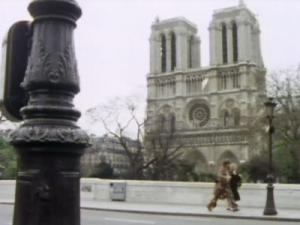 Broadcast: Sunday 29th December 1985
11:00pm-12:33am CST
(05:00 GMT)
<
>
«
»
WTTW 11 Chicago
Featuring: Tom Baker, Lalla Ward, Tom Chadbon, Julian Glover, Catherine Schell
While on holiday in Paris, the Doctor and Romana experience a time distortion. At the Louvre, someone is taking an unusual amount of interest in the Mona Lisa.
Synopsis Source: Doctor Who Guide
---
Broadcast notes:
Intro: A cat may have nine lives but Scarroth lives in twelve different times. That has advantages for him and sets up at least a dozen problems for The Doctor as he and Romana attempt to cope with the "City of Death."
Outro: Drifting along with the tumbling tumbleweeds. That's a poetic notion of a popular western song. A cowboy or anyone else would be well advised to give a wide berth to the tumbleweeds on the planet Chloris as we shall learn next week when The Doctor, Romana and K-9 meet "The Creature from the Pit." [source: ChicagoEpguides]
Broadcast Source: BroaDWcast