Last updated 12 January 2017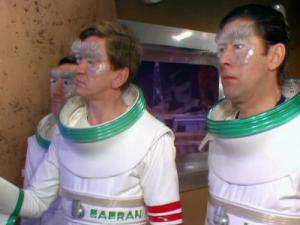 Broadcast: Sunday 20th October 1985
11:00pm-12:27am CDT
(04:00 GMT)
<
>
«
»
WTTW 11 Chicago
Featuring: Tom Baker, Louise Jameson, John Leeson, Michael Sheard
An alien virus infects the human crew of a refuelling station on Titan, one of the moons of Saturn. The Doctor is also infected and becomes possessed by the will of the Nucleus.
Synopsis Source: Doctor Who Guide
---
Broadcast notes:
Intro: Sometimes, in order to succeed, you have to get inside yourself. We, of course, understand that to be a metaphor, but The Doctor and Leela will have to take the phrase quite literally if they intend to overcome "The Invisible Enemy."
Outro: What does a twelve million year-old human skull do? Anything it wants to as you will learn when you join us next Sunday night at 11 for "Image of the Fendahl." [source: ChicagoEpguides]
Broadcast Source: BroaDWcast