Last updated 12 January 2017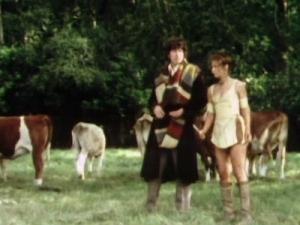 Broadcast: Sunday 27th October 1985
11:00pm-12:29am CST
(05:00 GMT)
<
>
«
»
WTTW 11 Chicago
Featuring: Tom Baker, Louise Jameson, Denis Lill, Wanda Ventham
The Doctor and Leela arrive in present day England at Fetch Priory where a mysterious skull that is older than mankind exerts a deadly influence on those around it.
Synopsis Source: Doctor Who Guide
---
Broadcast notes:
Intro: "I Love Life and I Want to Live" is the title of the old song and it is a perfect theme song for the Fendahl. However, if the Fendahl were to sing "I Love Life," it would not be talking about its, but yours.
Outro: Next week, a good case for the ICC: the Intergalactic Commerce Commission as The Doctor uncovers the abuses of The Sun Company. Be with us next Sunday night at 11 for "The Sun Makers." [source: ChicagoEpguides]
Broadcast Source: BroaDWcast