Last updated 12 January 2017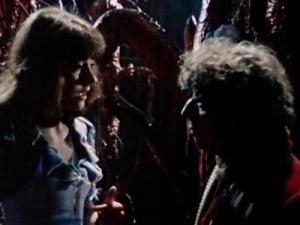 Broadcast: Sunday 14th July 1985
11:00pm-12:27am CDT
(04:00 GMT)
<
>
«
»
WTTW 11 Chicago
Featuring: Tom Baker, Elisabeth Sladen, Prentis Hancock, Frederick Jaeger
The TARDIS takes the Doctor and Sarah to the planet Zeta Minor on the edge of the universe. An unseen menace has wiped out a Morestran expedition and haunts the alien jungle...
Synopsis Source: Doctor Who Guide
---
Broadcast notes:
Intro: Say it four times rapidly: anti-matter monster, anti-matter monster, anti-matter [begins to mumble]. Not easy, is it? And it's even more difficult to deal with the nasty fellows. But that is the charge of The Doctor and Sarah as they travel to the outermost edge of the known universe to the "Planet of Evil."
Outro: Next week, the Doctor tries to prevent the delivery of a gift to all mankind: the gift of death. Be with us next Sunday night at 11, and prepare to penetrate the unspeakable mysteries of "The Pyramids of Mars." [source: ChicagoEpguides]
Broadcast Source: BroaDWcast