Last updated 12 January 2017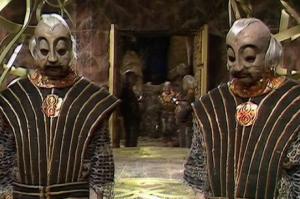 Broadcast: Sunday 30th June 1985
11:00pm-12:31am CDT
(04:00 GMT)
<
>
«
»
WTTW 11 Chicago
Featuring: Tom Baker, Ian Marter, Elisabeth Sladen, David Collings, Ronald Leigh-Hunt, Jeremy Wilkin
The Doctor, Sarah and Harry return to Nerva, but at an earlier point in time. The crew are dying and blame a space plague, but the Doctor suspects a survivor may be responsible.
Synopsis Source: Doctor Who Guide
---
Broadcast notes:
Intro: The Doctor, Sarah and Harry are about to return to "The Ark in Space" where they will find conditions less than ideal, and the worst is yet to come. I'm not sure about you, but I've always been suspicious of guys who wear big earmuffs when it's not cold out.
Outro: Who has been eating the North Sea oil rigs? That is a question that can be answered only by traveling to a land near the site of the deed. As daunting as that prospect may be, the Doctor will, nevertheless, journey to Scotland next Sunday night at 11. [source: ChicagoEpguides]
Broadcast Source: BroaDWcast