Last updated 11 January 2017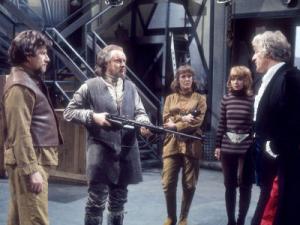 Broadcast: Sunday 10th February 1985
11:00pm-12:02am CST
(05:00 GMT)
<
>
«
»
WTTW 11 Chicago
Featuring: Jon Pertwee, Nicholas Courtney, Katy Manning, John Ringham, Helen Worth
The TARDIS takes the Doctor and Jo to a barren world in the far future where human colonists are scratching a living. But at night, the colonists are menaced by a monster.
Synopsis Source: Doctor Who Guide
WTTW broadcast the story into two parts, with the split taking place during episode three when Caldwell tells the Doctor that an attack on the IMC ship would be a slaughter. [source: ChicagoEpguides]
Intro: As the song goes, the cowman and the farmer should be friends. But how about the colonists and the mineralogists? Well, that is a stickier wicket and The Master's presence will do little mitigate the situation that obtains in the "Colony in Space."
Outro: The doomsday machine becomes the sinecure and with good reason, implicit in its name. Who will gain control? Be with us next Sunday evening at 11 for the conclusion of "Colony in Space." [source: ChicagoEpguides]
Broadcast Source: BroaDWcast