Last updated 11 January 2017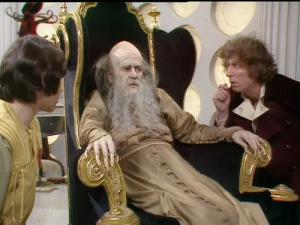 Broadcast: Sunday 23rd September 1984
11:00pm-12:29am CDT
(04:00 GMT)
<
>
«
»
WTTW 11 Chicago
Featuring: Tom Baker, Sarah Sutton, Matthew Waterhouse, Anthony Ainley, Geoffrey Beevers
The Keeper of Traken is nearing the end of his long reign. Fearing a terrible evil is about to threaten the peace and harmony of his world, he requests the Doctor's help.
Synopsis Source: Doctor Who Guide
---
Broadcast notes:
Intro: In the harmonious world of Traken, any visting evil creature is literally turned to stone which certainly solves the problem of law and order. But chaos is imminent and The Doctor's help is needed. Let us fervently hope he will inspire the inhabitants to keep on Traken.
Outro: Next week, the onset of an occurrence which would make armageddon seem like a tea dance. Be a watcher next Sunday night and you may see The Watcher when we journey to "Logopolis." [source: ChicagoEpguides]
Broadcast Source: BroaDWcast
Notes
Credit: WTTW 11 / ChicagoEpGuides / FuzzyMemories