Last updated 11 January 2017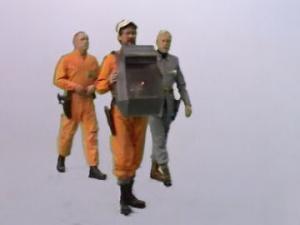 Broadcast: Sunday 16th September 1984
11:00pm-12:24am CDT
(04:00 GMT)
<
>
«
»
WTTW 11 Chicago
Featuring: Tom Baker, John Leeson, Lalla Ward, Matthew Waterhouse, Clifford Rose
The TARDIS is drawn into an empty white void, somewhere between universes. But they are not the only ones trapped there.
Synopsis Source: Doctor Who Guide
---
Broadcast notes:
Intro: If someone wanted to get to a place that could only be gotten to in the TARDIS, what would he do? He could offer to rent it and give The Doctor his Rolls Royce Silver Shadow as a loaner, or he could offer his new edition of Trivial Pursuit, or he could take more direct action. Whatever the course, it will lead ultimately to "Warriors' Gate."
Outro: In the United States we limit our president's term to eight years. The Keeper of Traken has a thousand. How fortunate are the inhabitants of Traken that there's a millennium between political campaigns. But there are other problems on Traken as we will discover next Sunday night at 11. [source: ChicagoEpguides]
Broadcast Source: BroaDWcast
Notes
Credit: WTTW 11 / ChicagoEpGuides / FuzzyMemories