Last updated 10 January 2017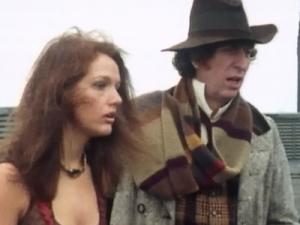 Broadcast: Sunday 29th April 1984
11:00pm-12:35am CDT
(04:00 GMT)
<
>
«
»
WTTW 11 Chicago
Featuring: Tom Baker, Louise Jameson, John Leeson, Michael Keating
The TARDIS arrives on Pluto which has been made habitable and turned into a giant factory where the ruthless Company exploits its under-paid workers.
Synopsis Source: Doctor Who Guide
---
Broadcast notes:
Intro: We are lately being warned that too much sun is dangerous to our health. But millions of years hence, when one speaks of the sun, it will not be a reference to the third class star which powers our solar system, but to The Sun Company, an alien-controlled business operation which is subjugating other races through the misuse of commercial power. The Doctor and Leela will need much more than Pabba(?) 15 sunscreen as confront "The Sun Makers."
Outro: Next week, The Doctor and Leela journey to the edge of creation in search of a missing spacecraft from a planet that exploded one hundred millennia ago. Against all odds they will find it, and a host of surprises in "Underworld." [source: ChicagoEpguides]
Broadcast Source: BroaDWcast