Last updated 11 January 2017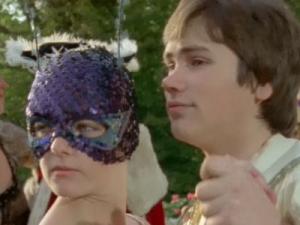 Broadcast: Sunday 22nd May 1983
11:00pm-11:47pm CDT
(04:00 GMT)
<
>
«
»

<
>
«
»
WTTW 11 Chicago
Featuring: Peter Davison, Janet Fielding, Sarah Sutton, Matthew Waterhouse, Michael Cochrane, Gareth Milner, Barbara Murray, Sarah Sutton, Moray Watson
A murder is committed in Cranleigh Hall. The Cranleighs ask the Doctor to play cricket and then join them for a masked ball, enabling the killer to hide in plain sight.
Synopsis Source: Doctor Who Guide
---
Broadcast notes:
Intro: Flappers, a costume ball, and a killer on the loose! They add up to the first completely historical, non-sci-fi adventure in fifteen years. Monstrous, you say? Monsterless, I say-- but veeeery interesting! As we shall observe, in the unfolding of.. the "Black Orchid", here on WTTW, Channel 11, in Chicago.
Outro: Who or what has ruthlessly slaughtered a group of 25th century paleontologists in an underground cave? Lt. Scott and the security force trooper set out to find the answer, but this is a job for The Doctor. The tale will be told next Sunday night at 11. Be prepared for "Earthshock." [source: ChicagoEpguides]
Broadcast Source: BroaDWcast