Last updated 02 January 2017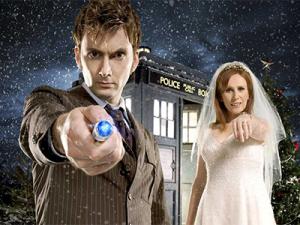 Visit Broadcast Link
Broadcast: Saturday 10th January 2009
10:59pm-12:00am MST
(05:59 GMT)
<
>
«
»

<
>
«
»
Idaho Public Television
Featuring: David Tennant, Catherine Tate, Sarah Parish
No sooner has the Doctor said a tear-stained farewell to Rose Tyler than he finds himself face-to-face with Donna, played by comedienne Catherine Tate, dressed in a fluffy white wedding frock. When he tries to return Donna to her wedding, they discover Donna is caught in the web of an attempt to ensnare the earth.
Synopsis Source: Idaho PBS website schedule listing
Broadcast Source: Idaho Public Television
Report from the This Week in Doctor Who Archive:
Saturday 10th January 2009:
Idaho Public TV
http://idahoptv.org
analog 4,10,13,26 digital .1
Boise DirecTV 4
Boise Dish 4,7141
Idaho Falls Dish 10,7746
Twin Falls Dish 13,8807
Spokane, WA DirecTV 26
Spokane, WA Dish 26,9178
Series 3 - 1st Cycle:
Saturday 10:59PM MST/PST 3-00 The Runaway Bride (Start of Series 3, 61 minutes)

17 January 11PM MST/PST 3-01 Smith and Jones
24 January 11PM MST/PST 3-02 The Shakespeare Code
31 January 11PM MST/PST 3-03 Gridlock
7 February 11PM MST/PST 3-04 Daleks in Manhattan pt 1 of 2
14 February 11:10PM MST/PST 3-05 Evolution of the Daleks pt 2 of 2
21 February 11PM MST/PST 3-06 The Lazarus Experiment
28 February pre-empted by pledge specials. 42, previously scheduled here, is postponed.
Idaho Public TV has the right to air Series 2 another 2 times before March 31, 2010.