Last updated 02 January 2017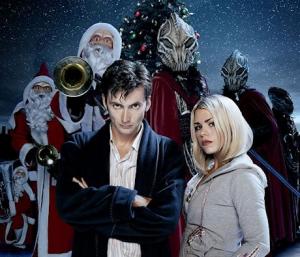 Visit Broadcast Link
Broadcast: Saturday 20th December 2008
11:00pm-12:00am MST
(06:00 GMT)
<
>
«
»

<
>
«
»
Idaho Public Television
Featuring: David Tennant, Noel Clarke, Billie Piper, Camille Coduri, Penelope Wilton
This 2005 special introduces David Tennant as the regenerated Dr. Who. Rose (Billie Piper) brings The Doctor to Jackie's house in London to continue his recuperation. It is Christmas Eve, but it is far from a silent night as the cruel Sycorax have come to earth to enslave mankind. Only The Doctor can save the humans but he is still lying in a coma.
Synopsis Source: Idaho PBS website schedule listing
Broadcast Source: Idaho Public Television
Report from the This Week in Doctor Who Archive:
Saturday 20th December 2008:
Idaho Public TV
http://idahoptv.org
analog 4,10,13,26 digital .1
Boise DirecTV 4
Boise Dish 4,7141
Idaho Falls Dish 10,7746
Twin Falls Dish 13,8807
Spokane, WA DirecTV 26
Spokane, WA Dish 26,9178
Series 1 - 5th(!) Cycle/Series 3 - 1st Cycle:
Saturday 11PM MST/PST 2-00 The Christmas Invasion

27 December 11PM MST/PST 1-12 Bad Wolf pt 1 of 2
3 January 11PM MST/PST 1-13 The Parting of the Ways pt 2 of 2
10 January 10:59PM MST/PST 3-00 The Runaway Bride (Start of Series 3, 61 minutes)
17 January 11PM MST/PST 3-01 Smith and Jones
24 January 11PM MST/PST 3-02 The Shakespeare Code
31 January 11PM MST/PST 3-03 Gridlock
7 February 11PM MST/PST 3-04 Daleks in Manhattan pt 1 of 2
14 February 11:10PM MST/PST 3-05 Evolution of the Daleks pt 2 of 2
21 February 11PM MST/PST 3-06 The Lazarus Experiment
Idaho Public TV has the right to air Series 2 another 2 times before March 31, 2010.