Last updated 02 January 2017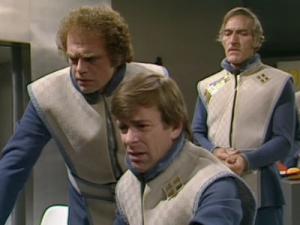 Broadcast: Saturday 22nd October 2016
10:00pm-11:30pm CDT
(03:00 GMT)
<
>
«
»
WYCC
Featuring: Tom Baker, John Leeson, Mary Tamm, Philip Madoc, Glyn Owen
The search for the Key to Time lands Dr. Who and Romana on a moon inhabited by swamp people---and a gigantic monster. Dr. Who: Tom Baker. Fenner: Philip Madoc. Romana: Mary Tamm. Thawn: Neil McCarthy. Dugeen: John Leeson. Rohm-Dutt: Glyn Owen.
Synopsis Source: WYCC website schedule listing
---
Broadcast notes:
Online listings indicated this broadcast was The Armageddon Factor, the WYCC magazine listed it as The Androids of Tara.
Broadcast Source: WYCC