Last updated 02 January 2017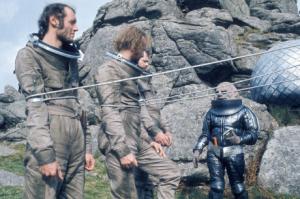 Visit Broadcast Link
Broadcast: Saturday 6th August 2016
10:30pm-11:18pm CDT
(03:30 GMT)
<
>
«
»
Iowa Public TV
Featuring: Tom Baker, Ian Marter, Elisabeth Sladen, Kevin Lindsay
The Doctor, Sarah and Harry arrive on a desolate and apparently deserted Earth to discover that a group of shipwrecked astronauts from a human colony, GalSec, have been lured there by a fake distress call. One of their number, Roth, tells Sarah of an alien conducting gruesome experiments on him and his crewmates. The alien turns out to be a Sontaran, Field-Major Styre, who is compiling a report on human physical and mental capabilities as a prelude to an invasion of Earth.
Synopsis Source: IPTV website TV listing
---
Broadcast notes:
Originally scheduled on 30th July at 10:30pm as broadcast in production order, but the channel re-jigged into broadcast order instead.
Broadcast Source: IPTV