Last updated 02 January 2017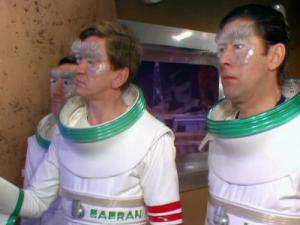 Broadcast: Saturday 1st November 2003
11:35pm-12:00am CST
(05:35 GMT)
<
>
«
»
Iowa Public TV
Featuring: Tom Baker, Louise Jameson, John Leeson, Michael Sheard
An alien virus infects the human crew of a refuelling station on Titan, one of the moons of Saturn. The Doctor is also infected and becomes possessed by the will of the Nucleus.
Synopsis Source: Doctor Who Guide
Broadcast Source: TWiDW
Report from the This Week in Doctor Who Archive:
Wednesday 29th October 2003:
IPTV Iowa
http://www.sffn.com/
http://www.iptv.org
analog 11, 12, 21, 24, 27, 32, 32, 36, 36
digital 11 (50), 45, 25, 18, 28, 33, 35, 35, 34 - not on air
Des Moines DirecTV 11,474
Des Moines Dish 11,9116
Cedar Rapids Dish 12,9161
Omaha Dish 32,9146
Sat 11:35PM CST The Invisible Enemy pts 1+2 of 4
A mental invasion is underway. The Swarm are taking over minds in a part of the galaxy, building forces for an invasion. And the latest mind they've targeted belongs to the 4th Doctor.