Last updated 02 January 2017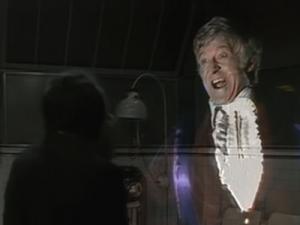 Broadcast: Saturday 21st February 2004
12:30am-1:00am MST
(07:30 GMT)
<
>
«
»
Colorado Public Television
Featuring: Jon Pertwee, Nicholas Courtney, Katy Manning, Roger Delgado, Richard Franklin, John Levene, Michael Sheard
The mind parasite within the Keller Machine becomes too powerful for the Master to control. It learns how to move of its own accord and goes on the hunt for new minds.
Synopsis Source: Doctor Who Guide
Broadcast Source: TWIDW
Report from the This Week in Doctor Who Archive:
Wednesday 18th February 2004:
KBDI/K32EO Denver/Colorado Springs, CO
http://www.kbdi.org
analog 12, 32
digital 12-1 (38-1)
Denver DirecTV 12,910
Denver Dish 12,8211
Late Fri 12:30AM MST The Mind of Evil eps 4+5 of 6
Sat 11PM MST The Mind of Evil ep 6 of 6
The Keller Machine is going insane. Not content to follow the orders of The Master, it wants to kill people on its own. Can The Master convince the Doctor to help him before more people die?
Sat 11:30PM MST The Claws of Axos ep 1 of 4
A spaceship approaches Earth in a suspicious manner. Some parts of the military suggest blowing it out of the sky. The 3rd Doctor suggests communication. And while everyone's distracted by this, an American comes in hopes of tracking down the Master.
Next week, only episode 6 of The Mind of Evil will air on Friday night, and 3 episodes will air Saturday, starting at 10:30PM. Looks like they don't want to pre-empt

Doctor Who

for March pledge drives while in mid-story.