Last updated 02 January 2017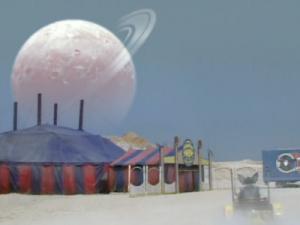 Broadcast: Saturday 24th May 2003
10:00pm-10:30pm MDT
(04:00 GMT)
<
>
«
»
Colorado Public Television
Featuring: Sylvester McCoy, Sophie Aldred, Christopher Guard, Jessica Martin, T P McKenna, Peggy Mount, Gian Sammarco
Bellboy and Flowerchild escape the Psychic Circus but are pursued by the Chief Clown. The Doctor and Ace meet other visitors to Segonax, some of whom are not what they seem...
Synopsis Source: Doctor Who Guide
Broadcast Source: TWIDW
Report from the This Week in Doctor Who Archive:
Thursday 22nd May 2003:
KBDI/K32EO Denver/Colorado Springs, CO
http://www.kbdi.org
analog 12,32
digital (38)
Denver DirecTV Local 12,910
Denver Dish Local 12,8211
Late Fri 12:30AM MDT Silver Nemesis pts 2+3 of 3
The Cybermen, Nazis, and a 17th Century sorceress battle it out for control of Nemesis, a comet come to Earth courtesy of the 7th Doctor. And he alone knows the secrets of Nemesis. But someone now knows the secrets of the Doctor.
Sat 10PM MDT The Greatest Show in the Galaxy all 4 pts
The famous Psychic Circus is auditioning new acts. Be feted as a star. Have all your needs attended to. Be turned into ashes if you don't keep the audience happy. Now the Circus wants to audition
- the 7th Doctor.

Doctor Who

will be pre-empted next week by pledge drives.