Last updated 02 January 2017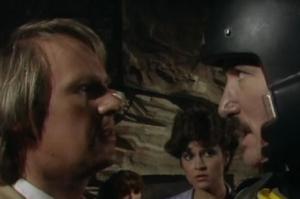 Broadcast: Saturday 10th May 2003
12:30am EDT
(04:30 GMT)
<
>
«
»
KERA
Featuring: Peter Davison, Janet Fielding, Sarah Sutton, Matthew Waterhouse
Deadly androids are protecting a bomb buried beneath the Earth from all investigation. However, the Doctor manages to disable it, alerting its owners – the Cybermen...
Synopsis Source: Doctor Who Guide
Broadcast Source: TWIDW
Report from the This Week in Doctor Who Archive:
Wednesday 7th May 2003:
KERA/K44FI Dallas/Wichita Falls, TX
http://www.kera.org
analog 13,44
digital 14-1
Dallas DirecTV Local 13,889
Dallas Dish Local 8406,13
Late Fri 12:30AM CDT Earthshock movie
The
Doctor Who
story that broke the rules when it premiered in 1982. The 5th Doctor, Adric, Nyssa, and Tegan get involved with the search to find a missing survey crew. The parties responsible desire to wipe out the Earth in the 26th Century. This is the movie version, so you'll have to insert the cliffhanger in your mind about 23 minutes in when (CENSORED) arrives. And if you have anyone watching with you who doesn't know the ending - don't tell them. Let them see for themselves.