Last updated 02 January 2017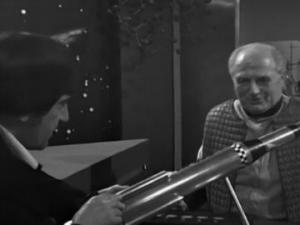 Broadcast: Sunday 28th March 2004
12:00am EST
(05:00 GMT)
<
>
«
»
MPT Maryland
Featuring: Patrick Troughton, Frazer Hines, Wendy Padbury, Ronald Leigh-Hunt, Louise Pajo, Philip Ray, Terry Scully
The TARDIS arrives on 21st Century Earth where all long distance journeys are made instantaneously by T-Mat. But aliens have invaded the T-Mat relay station on the Moon, and they're about to cause havoc...
Synopsis Source: Doctor Who Guide
Broadcast Source: TWIDW
Report from the This Week in Doctor Who Archive:
Wednesday 24th March 2004:
MPT Maryland
http://www.mpt.org
analog 22, 67, 31, 28, 62, 36
digital 22-2 (42-2), 67-2 (29-2), 31-2 (44-2), 28-2 (56-2), 28, 54
DC/Hagerstown, Baltimore DirecTV 22,980
Baltimore Dish 22,8736
Late Saturday Mid EST The Seeds of Death movie
Series 6, Episodes 23 through 28. Doctor:
Pat Troughton
. The Ice Warriors conquer the Moon. Alas, humanity ended all space travel and set up all world commerce and transportation to occur via T-Mat, an immediate transit service run from - the Moon. Naturally, you humans bought the cheap version of T-Mat that didn't have any Earth-based over-rides. We at the T-Mat Sales Corporation would like to point out that we offered a version that could be run from Earth, but you purchasers didn't want a version that required ugly D-Cell batteries in its remote control. You humans should call in the first time traveler named the Doctor that you can find to clean up this mess. Your warranty with us expired last week. Your own fault for not buying the deluxe version, if you ask me.