Last updated 02 January 2017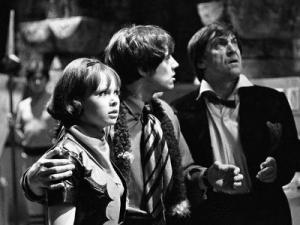 Broadcast: Sunday 21st March 2004
12:00am EST
(05:00 GMT)
<
>
«
»
MPT Maryland
Featuring: Dr. Who, Frazer Hines, Wendy Padbury
The TARDIS lands on the planet of the Gonds, a primitive and enslaved people. Every year, two of the finest Gond students are sent to be 'companions' of the mysterious and unseen Krotons. But the Doctor reveals that only death awaits them.
Synopsis Source: Doctor Who Guide
Broadcast Source: TWIDW
Report from the This Week in Doctor Who Archive:
Wednesday 17th March 2004:
MPT Maryland
http://www.mpt.org
analog 22, 67, 31, 28, 62, 36
digital 22-2 (42-2), 67-2 (29-2), 31-2 (44-2), 28-2 (56-2), 28, 54
DC/Hagerstown, Baltimore DirecTV 22,980
Baltimore Dish 22,8736
Late Sat Mid EST The Krotons movie
Time approximate after pledge drive. Peaceful robots find their efforts to escape the primitive planet of the Gonds threatened by a meddlesome Doctor and his companions Jamie and Zoe. The Doctor seems to think that channeling the intelligence of primitive natives and testing/eliminating the smartest ones to serve the higher needs of Kroton-kind is evil. The nerve of him - meddling in our robotic business. He must be eliminated.