Last updated 02 January 2017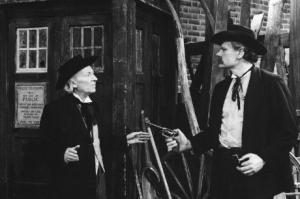 Broadcast: Sunday 15th February 2004
12:00am EST
(05:00 GMT)
<
>
«
»
MPT Maryland
Featuring: William Hartnell, Jackie Lane, Peter Purves, Richard Beale, David Cole, David Graham, William Hurndell, Anthony Jacobs
The Doctor, Steven and Dodo arrive in Tombstone in America's Wild West. Mistaken for the infamous Doc Holliday, the Doctor unwittingly walks into a trap.
Synopsis Source: Doctor Who Guide
Broadcast Source: TWIDW
Report from the This Week in Doctor Who Archive:
Wednesday 11th February 2004:
MPT Maryland
http://www.mpt.org
analog 22, 67, 31, 28, 62, 36
digital 22-2 (42-2), 67-2 (29-2), 31-2 (44-2), 28-2 (56-2), 28, 54
DC/Hagerstown, Baltimore DirecTV 22,980
Baltimore Dish 22,8736
Late Sat Mid EST The Gunfighters movie (A Holiday for the Doctor, Don't Shoot The Pianist, Johnny Ringo, The OK Corral)
Assuming the right tapes run, the 1st Doctor's search for a dentist brings him to Tombstone, Arizona, USA in 1881. The famed gunfighter Doc Holiday has set up shop as a dentist, but the Clanton family's desire for revenge over the death of a relative could force the Doc to trade his pliers for a six-shooter.