Last updated 02 January 2017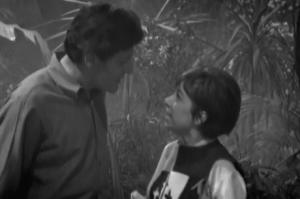 Broadcast: Sunday 8th February 2004
12:00am EST
(05:00 GMT)
<
>
«
»
MPT Maryland
Featuring: William Hartnell, Jackie Lane, Peter Purves, Eric Elliott, Inigo Jackson
Arriving in the future on a spaceship carrying the remains of the Earth's population, the Doctor, Steven and Dodo are accused of bringing the plague when Dodo's cold turns deadly.
Synopsis Source: Doctor Who Guide
---
Broadcast notes:
A distribution fault saw the last twenty minutes of the presentation broadcast as The O.K. Corral rather than The Bomb!
Broadcast Source: TWIDW
Report from the This Week in Doctor Who Archive:
Wednesday 4th February 2004:
MPT Maryland
http://www.mpt.org
analog 22, 67, 31, 28, 62, 36
digital 22-2 (42-2), 67-2 (29-2), 31-2 (44-2), 28-2 (56-2), 28, 54
DC/Hagerstown, Baltimore DirecTV 22,980
Baltimore Dish 22,8736
Sat 11:59PM EST The Ark movie (The Steel Sky, The Plague, The Return, The Bomb)
At the other end of the universe, other survivors of humanity are flying off in an Ark towards a new home for Earth. Unfortunately for them, the 1st Doctor, Steven, and new companion Dodo arrive. And Dodo has a cold. This is the story of the cold that launched a thousand body bags.
» it was later reported that the last 20 minutes were switched with the end of The Gunfighters instead.