Last updated 02 January 2017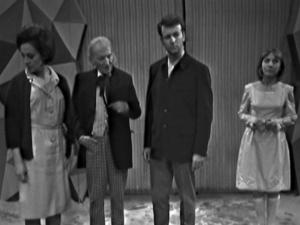 Broadcast: Sunday 18th January 2004
12:00am EST
(05:00 GMT)
<
>
«
»
MPT Maryland
Featuring: William Hartnell, Jacqueline Hill, Maureen O'Brien, William Russell, Peter Craze
Exploring a museum on the planet Xeros, the travellers discover they are invisible. The Doctor deduces that the TARDIS has jumped a time track and can see their own future.
Cliffhanger: having temporarily been frozen in time, the travellers discover their exhibits have vanished, and the Doctor realises that they have caught up with themselves in time ...
Synopsis Source: Doctor Who Guide
Broadcast Source: TWIDW
Report from the This Week in Doctor Who Archive:
Wednesday 14th January 2004:
MPT Maryland
http://www.mpt.org
analog 22, 67, 31, 28, 62, 36
digital 22-2 (42-2), 67-2 (29-2), 31-2 (44-2), 28-2 (56-2), 28, 54
DC/Hagerstown, Baltimore DirecTV 22,980
Baltimore Dish 22,8736
Late Sat Mid EST The Space Museum movie (The Space Museum, The Dimensions Of Time, The Search, The Final Phase)
Vicki, Barbara, Ian, and the 1st Doctor deal with the consequences of the 4th Dimension. After being presented a view of the future where they are dead, the TARDIS crew try to figure out what goes wrong to shuffle them off the mortal coil. But the knowledge of the future leaves them off-balance, second guessing every move.