Last updated 02 January 2017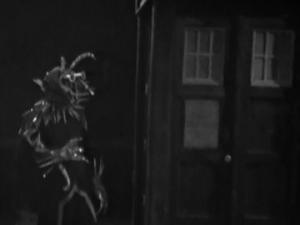 Broadcast: Sunday 28th December 2003
12:00am EST
(05:00 GMT)
<
>
«
»
MPT Maryland
Featuring: William Hartnell, Jacqueline Hill, Maureen O'Brien, William Russell, Ray Barrett, Sydney Wilson
Arriving on the planet Dido, the Doctor, Barbara and Ian discover a crashed spaceship from Earth and survivors. They are terrorised by the monstrous Koquillion who attacks Barbara.
Synopsis Source: Doctor Who Guide
Broadcast Source: TWIDW
Report from the This Week in Doctor Who Archive:
Tuesday 23rd December 2003:
MPT Maryland
http://www.mpt.org
analog 22, 67, 31, 28, 62, 36
digital 22-2 (42-2), 67-2 (29-2), 31-2 (44-2), 28-2 (56-2), 28, 54
DC/Hagerstown, Baltimore DirecTV 22,980
Baltimore Dish 22,8736
Late Sat Mid EST The Rescue movie (The Powerful Enemy, Desperate Measures)
Mildly depressed and unusually tired, the 1st Doctor guides the TARDIS to the planet Dido for a rest. Meanwhile, on a wrecked space ship, the two human survivors wait for rescue while avoiding the ire of a sinister benefactor.