Last updated 02 January 2017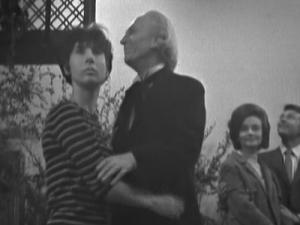 Broadcast: Sunday 21st December 2003
12:00am EST
(05:00 GMT)
<
>
«
»
MPT Maryland
Featuring: William Hartnell, Carole Ann Ford, Jacqueline Hill, William Russell, Peter Fraser, Alan Judd, Bernard Kay
The TARDIS lands in a ruined and empty London in the 22nd Century. Robomen patrol the shattered streets. The Doctor is eager to discover the cause of the city's plight.
Synopsis Source: Doctor Who Guide
Broadcast Source: TWIDW
Report from the This Week in Doctor Who Archive:
Wednesday 17th December 2003:
MPT Maryland
http://www.mpt.org
analog 22, 67, 31, 28, 62, 36
digital 22-2 (42-2), 67-2 (29-2), 31-2 (44-2), 28-2 (56-2), 28, 54
DC/Hagerstown, Baltimore DirecTV 22,980
Baltimore Dish 22,8736
Late Sat Mid EST The Dalek Invasion of Earth movie (World's End, The Daleks, Day Of Reckoning, The End Of Tomorrow, The Waking Ally, Flashpoint)
22nd Century Earth. The survivors of humanity are hiding from the Daleks. The 1st Doctor and company wind up in the thick of things, trying to save the world. For Susan, the stakes get unusually personal.