Last updated 02 January 2017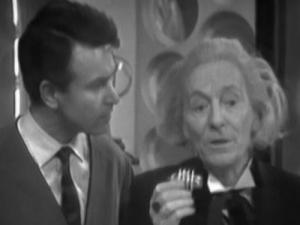 Broadcast: Sunday 9th November 2003
12:00am EST
(05:00 GMT)
<
>
«
»
MPT Maryland
Featuring: William Hartnell, Carole Ann Ford, Jacqueline Hill, William Russell
The travellers venture out on to the surface of a new world. Everything is dead, but beyond a petrified jungle they see a huge metal city which the Doctor is determined to explore...
Synopsis Source: Doctor Who Guide
Broadcast Source: TWIDW
Report from the This Week in Doctor Who Archive:
Wednesday 5th November 2003:
MPT Maryland
http://www.mpt.org
analog 22, 67, 31, 28, 62, 36
digital 22-2 (42-2), 67-2 (29-2), 31-2 (44-2), 28-2 (56-2), 28, 54
DC/Hagerstown, Baltimore DirecTV 22,980
Baltimore Dish 22,8736 - coming in November
Late Sat Mid EST The Dead Planet/The Daleks movie (The Dead Planet, The Survivors, The Escape, The Ambush, The Expedition, The Ordeal, The Rescue)
The 1st Doctor and company encounter the Daleks for the first time. Mutated beings trapped in specialized casings, the Daleks have grown paranoid and determined to be the only species on Skaro. Woe be to anyone else who happens to live on the planet.