Last updated 02 January 2017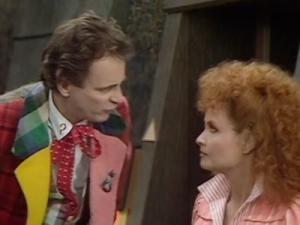 Broadcast: Sunday 10th August 2003
12:00am EDT
(04:00 GMT)
<
>
«
»
MPT Maryland
Featuring: Sylvester McCoy, Bonnie Langford, Karen Clegg, Richard Gauntlett, Mark Greenstreet, Kate O'Mara, Donald Pickering
A newly regenerated Doctor is taken to the Rani's base by Urak the Tetrap. Meanwhile Mel meets some of the Lakertyans and falls into one of the Rani's traps.
Synopsis Source: Doctor Who Guide
Broadcast Source: TWIDW
Report from the This Week in Doctor Who Archive:
Wednesday 6th August 2003:
MPT Maryland
http://www.mpt.org
analog 22,67,28,31,62,36
digital 42,
(29),(62),(44),(28),(56)
- simulcast of analog begins in 2003?
DC/Hagerstown & Baltimore DirecTV Local 22,980
Late Sat Mid EDT Time and the Rani movie
(MPT made a late change to the schedule and opted to finish their current run of the Doctor with the
Sylvester McCoy
stories - 1st Doctor and episode format fans will have to wait.) The Rani forces the TARDIS to crash on the planet Lakertya, where she tricks an amnesiac Doctor suffering from a regeneration crisis into helping her on a dangerous experiment.