Last updated 02 January 2017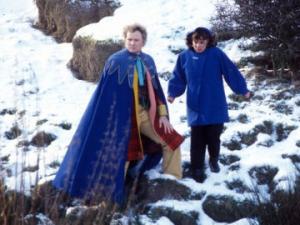 Broadcast: Sunday 6th July 2003
12:01am EDT
(04:01 GMT)
<
>
«
»
MPT Maryland
Featuring: Colin Baker, Nicola Bryant, Eleanor Bron, William Gaunt, Terry Molloy, Alexei Sayle, Clive Swift, Jenny Tomasin
The Doctor and Peri visit Necros to pay their last respects to Professor Arthur Stengos. The Daleks and the Great Healer are also on Necros… but what do they want?
Synopsis Source: Doctor Who Guide
Broadcast Source: TWIDW
Report from the This Week in Doctor Who Archive:
Wednesday 2nd July 2003:
MPT Maryland
http://www.mpt.org
analog 22,67,28,31,62,36
digital 42,
(29),(62),(44),(28),(56)
- simulcast of analog begins in 2003?
DC/Hagerstown & Baltimore DirecTV Local 22,980
Late Sat 12:01AM EDT Revelation of the Daleks movie
The apocalyptic finale to the 22nd series of
Doctor Who
. Davros has control of a funeral home, using it for contemptible ends. Everywhere the 6th Doctor turns, death and destruction seem to loom. For MPT viewers, it's 5 weeks till the
Hartnell
era and episodic format.
see note)