Last updated 02 January 2017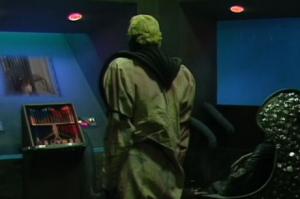 Broadcast: Sunday 29th June 2003
12:00am EDT
(04:00 GMT)
<
>
«
»
MPT Maryland
Featuring: Colin Baker, Nicola Bryant, David Chandler, Paul Darrow
As rebellion grows on Karfel, the Maylin's daughter Vena falls into the Timelash while protecting a rebel. She is drawn into the TARDIS as it travels through a Kontron time tunnel.
Synopsis Source: Doctor Who Guide
Broadcast Source: TWIDW
Report from the This Week in Doctor Who Archive:
Wednesday 25th June 2003:
MPT Maryland
http://www.mpt.org
analog 22,67,28,31,62,36
digital 42,
(29),(62),(44),(28),(56)
- simulcast of analog begins in 2003?
DC/Hagerstown & Baltimore DirecTV Local 22,980
Late Sat Mid EDT Timelash movie
Karfel, a planet once helped by the Doctor, is now under the control of a vicious sadist scientist called Borad. When the TARDIS accidentally stumbles across the planet again, the Borad races to keep the 6th Doctor from learning the secret of his rule, fearing that the Doctor will once again save Karfel from disaster.