Last updated 01 February 2017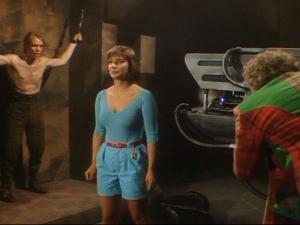 Broadcast: Saturday 24th May 2003
11:00pm-11:25pm EDT
(03:00 GMT)
<
>
«
»
WCET
Featuring: Colin Baker, Nicola Bryant, Forbes Collins, Jason Connery, Martin Jarvis, Nabil Shaban
Needing Zeiton 7 ore urgently for the TARDIS, the Doctor takes Peri to Varos. They quickly become part of the sadistic programming that entertains the populace.
Synopsis Source: Doctor Who Guide
Broadcast Source: TWiDW
Report from the This Week in Doctor Who Archive:
Thursday 22nd May 2003:
WCET Cincinnati, OH
http://www.wcet.org
analog 48
digital 34-2
Cincinnati DirecTV Local 48,909
Cincinnati Dish Local 48,8356
Sat 11PM EDT Vengeance on Varos 4 pt version, pts 1+2
The 6th Doctor and Peri land on Varos in search of a mineral that will fix the TARDIS. They find themselves in the middle of the ultimate reality TV show. Maybe not as gory as Fear Factor, but with a twist - you're supposed to die live for the audience's entertainment. We'd never do that here - except that I recently heard of a network commissioning a live game of Russian Roulette ...