Last updated 02 January 2017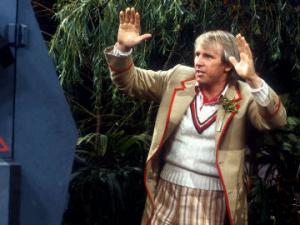 Broadcast: Saturday 29th May 2004
11:40pm CDT
(04:40 GMT)
«
»
WILL
Featuring: Peter Davison, Janet Fielding, Sarah Sutton, Matthew Waterhouse, Nerys Hughes, Simon Rouse, Richard Todd
While Nyssa rests, Adric and the Doctor discover a military expedition on Deva Loka. Tegan falls asleep in the forest watched by the Kinda, but they cannot stop her dreams.
Synopsis Source: Doctor Who Guide
Broadcast Source: TWiDW
Report from the This Week in Doctor Who Archive:
Wednesday 26th May 2004:
WILL Urbana, IL
http://www.will.uiuc.edu
analog 12
digital 9 - not on air
Champaign Dish 12,7407
Saturday 11:40PM CDT Kinda pt 1 of 4
Series 19, Episode 9. Doctor:
Peter Davison
.
Welcome to Deva Loka. A lush green planet with primitive natives and a human exploratory expedition. Evidence of advanced technology in the past. The perfect peaceful chance for Nyssa to get some rest while the 5th Doctor and company explore. What could possibly go wrong?