Last updated 02 January 2017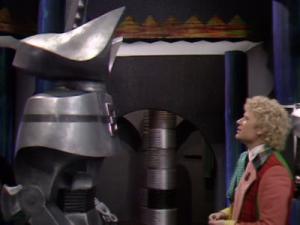 Broadcast: Saturday 4th January 2003
1:00am-1:30am MST
(08:00 GMT)
«
»
Colorado Public Television
Featuring: Colin Baker, Nicola Bryant, Lynda Bellingham, Tom Chadbon, Michael Jayston, Tony Selby, Joan Sims
The Doctor is foxed by Drathro's logic so it takes Glitz's blunt lies to buy them some time until Ravolox can be saved. Meanwhile the Tribe make a foolhardly attack on Marb Arch.
Synopsis Source: Doctor Who Guide
Broadcast Source: TWIDW
Report from the This Week in Doctor Who Archive:
Wednesday 1st January 2003:
KBDI/K32EO Denver/Colorado Springs, CO
http://www.kbdi.org
analog 12,32
digital (38) - under construction
Denver DirecTV Local 12,910
Denver Dish Local 8211,12
Late Fri 12:30AM MST The Trial Of A Time Lord pts 3+4 of 14 (The Mysterious Planet pts 3+4)
Drathro won't shut down the Black Light system because that will kill him. If he doesn't shut it down, the universe itself could perish.
Sat 11PM MST The Trial Of A Time Lord pts 5+6 of 14 (Mindwarp pts 1+2)
The second segment of the Trial is a dark tale of treachery and deceit. Sil and the Mentors are at work on Thoros-Beta trying to change the boundaries of life and death. Did the 6th Doctor wander into a mess too big for him to handle?