Last updated 02 January 2017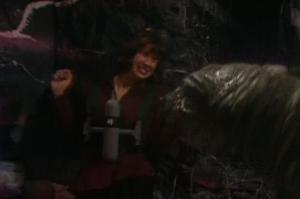 Broadcast: Saturday 23rd November 2002
1:00am-1:30am MST
(08:00 GMT)
<
>
«
»
Colorado Public Television
Featuring: Colin Baker, Nicola Bryant, David Chandler, Paul Darrow
The Borad accepts no opposition and enables Maylin Tekker to expose the rebels and trap Peri with the Morlox. The Doctor tries to avert a war between Karfel and the Bandrils.
Synopsis Source: Doctor Who Guide
Broadcast Source: TWIDW
Report from the This Week in Doctor Who Archive:
Wednesday 20th November 2002:
KBDI/K32EO Denver/Colorado Springs, CO
http://www.kbdi.org
analog 12,32
digital (38) - under construction
DirecTV 12,910 Dish 8211,12
Late Fri 12:30AM MST Timelash 4 pt version, pts 3+4
The 6th Doctor takes control of the Timelash, much to the dismay of the Borad.
Sat 11PM MST Revelation of the Daleks 4 pt version, all 4 pts
The 6th Doctor goes to visit a dead friend, learns of his own death, and learns the truth about life and death in a mortuary. The Daleks lurk in the shadows, as does an old foe.
Doctor Who
will be pre-empted next week. It will return in December.