Last updated 02 January 2017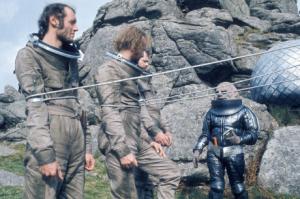 Broadcast: Saturday 29th March 2003
11:35pm-12:00am CST
(05:35 GMT)
<
>
«
»
Iowa Public TV
Featuring: Tom Baker, Ian Marter, Elisabeth Sladen, Kevin Lindsay
The Doctor, Harry and Sarah find Earth is a desolate wilderness. They meet a group of stranded human colonists who are being hunted by a robot and experimented upon by its master.
Synopsis Source: Doctor Who Guide
Broadcast Source: TWiDW
Report from the This Week in Doctor Who Archive:
Wednesday 26th March 2003:
IPTV Iowa
http://www.sffn.com
http://www.iptv.org
analog 11,12,21,24,27,32,32,36,36
digital 50-1,
(45),(25),(18),(28),(33),(35),(35),(34)
Des Moines Dish Local 9116,11
Omaha, NE Dish Local 9146,32
Cedar Rapids Dish Local 9161,12
Sat 11:35PM CST The Sontaran Experiment pts 1+2 of 2
IPTV is skipping Genesis of the Daleks next week, and it is unknown when/if
IPTV will air that story.